Updating Personal Information
Personal Information Application Upgrade
The personal information tab on myUTSA Account has undergone an upgrade for certain items and we are working on updating this page accordingly. In the meantime, please use the PDF Guide: Updating Personal Information for instructions on how to navigate and update your personal information.
It's important to keep your personal information updated on myUTSA Account so we have the most current information on file when we communicate with you! Find out what types of personal information you can update and the steps to make those changes.
Where do you find your personal information?
Log into myUTSA Account and click on the "Personal Information" tab on the far left.

What personal information can you update?
There are several items you can update on myUTSA Account. We detail how you can make updates to each item below.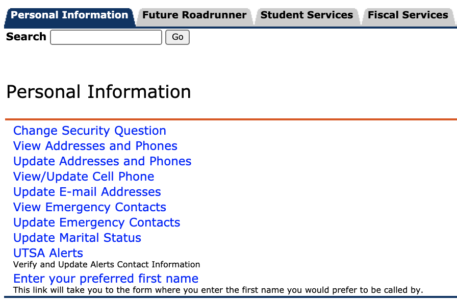 You can view the different address and corresponding phone numbers when you click on the "View Addresses and Phones" link. We recommend always having updated "Mailing, Local or On-Campus" and "Permanent" addresses on file.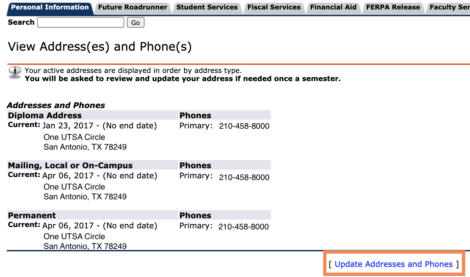 If you need to update your address, click on "Update Addresses and Phones" towards the bottom of the page and you will see the following box, where you will select the type of address you want to insert from the drop down list and click "Submit."

Next you will fill out the applicable fields. Be sure to read the instructions before submitting.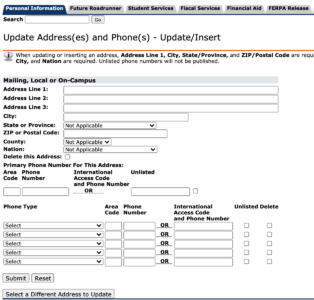 You can view your cell phone number on record when you click on the "View/Update Cell Phone" link.
Note: UTSA may utilize the cell phone number to send text messages to students.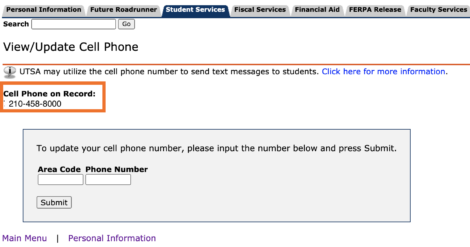 If a cell phone is not listed, you can add one and click "Submit."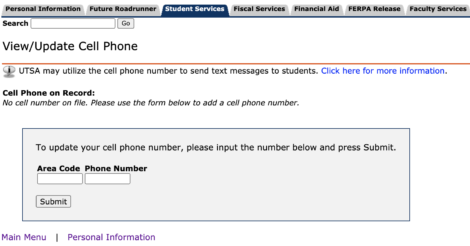 If you need to update your cell phone, input your number in the gray box and click "Submit."

Students are issued a UTSA email address, which is powered by Microsoft Office 365. Students can access their UTSA email by visiting portal.office.com and log in with your UTSA email address and current myUTSA passphrase. Please note to access your UTSA email inbox will require two-factor authentication.
To see what your UTSA email address is, log into myUTSA Account and you'll see your UTSA email address on the main menu.
You can view and update your emergency contact(s) listed by clicking on "View Emergency Contacts" under the Personal Information tab. If you would like to update your contact, click on "Update Emergency Contacts" towards the bottom.

A "New Contact" link will populate and you will click on it.

Next you will fill out your emergency contact's information and "submit."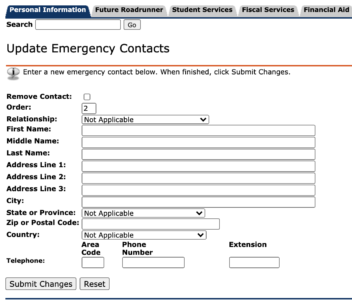 You can view and update where UTSA alerts should be sent during an emergency. You have three options:
Emergency Text Message
Emergency Voice Message (via phone)
Do Not Wish to Receive Emergency Messages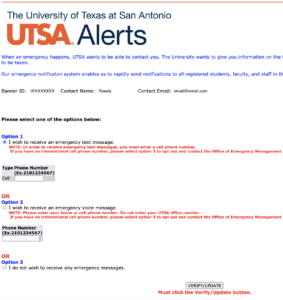 You can update your account to use a first or middle name other than your legal name to identify yourself by clicking on the "Enter your preferred first name" on the Personal Information tab. You will submit your preferred name and click "submit." If your preferred name is the same as your legal name, you do not need to update this field.
Please note: Your preferred name will not appear on your official transcript or your diploma.