The One Stop Enrollment Center assists with all questions related to financial aid, undergraduate admissions and registration. Whether it's in-person, online or over the phone, our One Stop counselors are here to help and can be reached in whatever way is most convenient for you.
Hours of Operation
Monday-Friday: 8:30am – 4:00pm
By Visiting
Save your spot without waiting in line! Reserve your spot remotely using our QLESS system.
MAIN CAMPUS
John Peace Library (JPL) 110
One UTSA Circle
San Antonio, TX 78249
Main Campus Walk-In QLESS Line
DOWNTOWN CAMPUS
Frio Street Building (FS) 2.400
501 W. Cesar Chavez Blvd.
San Antonio, TX 78207
Downtown Campus Walk-In QLESS Line
By Phone
Call us and choose 1 for a One Stop Counselor or 2 for a Fiscal Services Representative for billing. If you select One Stop, choose from one of the following menu options:
Account Claim/myUTSA ID Passphrase Resets – option 1
Admissions (Undergraduate & Graduate) – option 2
Financial Aid – option 3
Registration & Records – option 4
Call Back Feature: Please note students who opt to use the call back feature may be called from another phone number.
Peak Times: During peak times (May through August and January), wait times may be longer than usual. You will be told your place "in line" while waiting for a representative. We encourage students to use the call back feature or to call during non-peak hours (typically 8:30-9 am) for quicker service.
210-458-8000
1-800-669-0919 toll free
By Chat
Through live chat we can answer both general and account-specific questions. Note: If you have account-specific questions, we will need to confirm your identity first before we can give you specifics.
How to Chat with Us
By Email
Questions and some documents can be submitted to onestop@utsa.edu by email. Generally, you'll receive a response within 3-5 business days, but during peak season, please allow 8 business days.
onestop@utsa.edu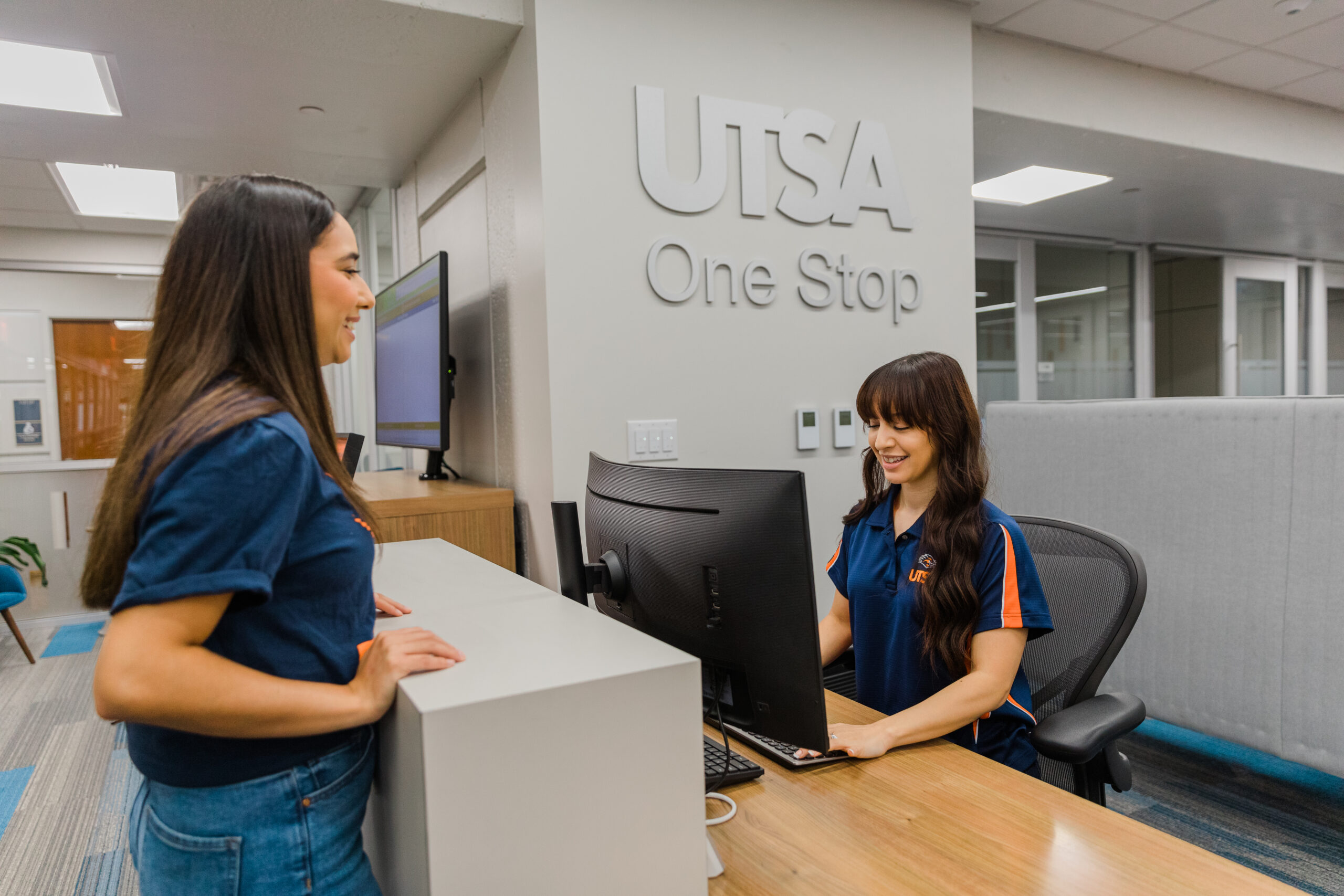 By Appointment
If you would like to schedule an appointment with a One Stop Enrollment Counselor, please use our QLESS system. Please note we do not schedule appointments during peak times (May through August and January).
Schedule with QLESS
Social Media
We actively monitor @UTSAonestop for questions on social media.
@UTSAOneStop Twitter
@UTSAOneStop Facebook
@UTSAOneStop Instagram