Class Schedule
About four weeks before registration opens, the class schedule can be viewed here or in the schedule planner, linked from the Student Services tab in ASAP.
Please note that final classroom information will not available until about two week before classes start, so make sure to check your schedule for any room changes.
How to Search for Courses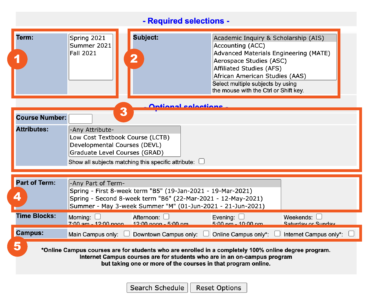 Select a Term
You must first select a term. If the term is summer, you can further narrow your search by selecting specific "parts of term" such as first 5-weeks, second 5-weeks, 8-weeks, etc.

Select a Course Subject
Narrow your search by selecting the specific subject. You can select multiple subjects by holding CTRL or SHIFT key when clicking through on the subjects. If you know the specific course number, you can type that in the "optional sections" portion.

Search by Course Number & Attributes

Course Number – If you are looking for a particular course, you can enter the specific course number.
Attributes – If you are looking for courses with certain features such as free textbooks, online (Internet), graduate-level, etc., select the appropriate Attribute

Lower-Division Courses are undergraduate-level courses with course numbers starting with "1" or "2"
Upper-Division Courses are undergraduate-level courses with course numbers starting with "3" and "4"

Search by Part of Term – you can use this to view courses offered during a specific part of term for the semester.

Search by Campus – You can use this to filter for courses offered by campus.

Face-toFace courses have a campus of "Main Campus" or "DownTown Campus"
Courses that are online have a campus of "Internet" (currently, to search for online courses, you must select "internet campus only" checkbox in the campus section on the class schedule.)
Courses exclusively for fully online students have a campus of "Online"
Anatomy of the Class Schedule
You will notice that the class schedule is organized in a table. Below you will find information about each column listed and what it represents to help you build your class schedule.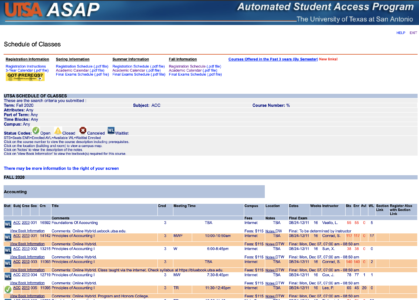 This is where you will see the status of the course.
Open
Closed
Canceled
Waitlist
"Sub/Crse/Sec/CRN/Title" - Course Information

This identifies the course information. Pay attention to the CRN, that is what you will need to register for the course. Click on the course to see the course description. You can also view any required textbooks and course materials by clicking on the View Book Information.

How many credit hours you could earn from successfully completing the course

The date and time when the class meets. IF THIS IS BLANK, that means the course is asynchronous or is individualized instruction like Independent Study, Master's Thesis, Doctoral Dissertation, etc.

The different campuses include Main, Downtown, Internet, Off Campus, Out-of-State, and Online Programs
Internet means it is an online course for students not in a 100% online degree program
Online Program means it is an online course for students in a 100% online degree program only
Off Campus means class is held at another location, for example, a local high school
Out-of-State means class is held outside of Texas or the U.S., such as Study Abroad courses

Additional fees to take the course

The building and room where the class meets on the Main Campus or Downtown Campus. TBA will show for all internet courses or if a building/room has not been assigned.

The semester start and end dates. Most classes are held during the long semester (16 weeks) but some classes may be in an eight-week semester.

Any special requirements or additional information you should know about the course, such as it requires special approval, has a prerequisite, is restricted to certain majors, etc. Click on "Notes" to see the note description.

Shows the date and time of the final exam if the course is synchronous or face-to face. For asynchronous courses, check the course syllabus for the final exam date and time.

Length of the semester

The instructor teaching the course. If the instructor is Staff, that means an instructor has not yet been assigned to this course.
"Sts/Enr/Avl" - Seat Information

Sts = seats
How many students may enroll in this course
Enr = enrolled
How many students are already enrolled in this course
Avl = available
How many seats (open spots) are still available for students to register in this course
"WL" - Waitlist Information
WL = waitlist

The number of students on the waitlist for this course. N/A indicates that wait listing is not available for this course.
Section Link & Register Also with Section Link

Some courses have a lecture component and a linked lab component that are taught separately. When registering for a section that has a section link code, you must also register for a linked section that has the code shown under Register Also with Section Link. In the example above, if you register for the lecture section of CHE 1004 with the link code A1, it requires registration in one of the lab sections with the link code AA.
Class Modality
Classes at UTSA can have different modes of instruction. Click here for more details.
How to Find your Class Schedule in ASAP
Once you've registered for classes, you can find your detailed course schedule in ASAP.
Log into ASAP
Select the "Student Services" tab
Select the "Registration" link
Select "Student Detail Schedule" link
Select the term and submit
Academic Calendar & Schedule
See below for the various PDFs to the semester academic calendars and registration schedules.