Your student portal is an important tool for your student journey. You can find your personal information, accounts and applications through this single digital platform called myUTSA Account. Use your myUTSA ID and passphrase to login. Additional resources and information on how to navigate your student portal can be found below.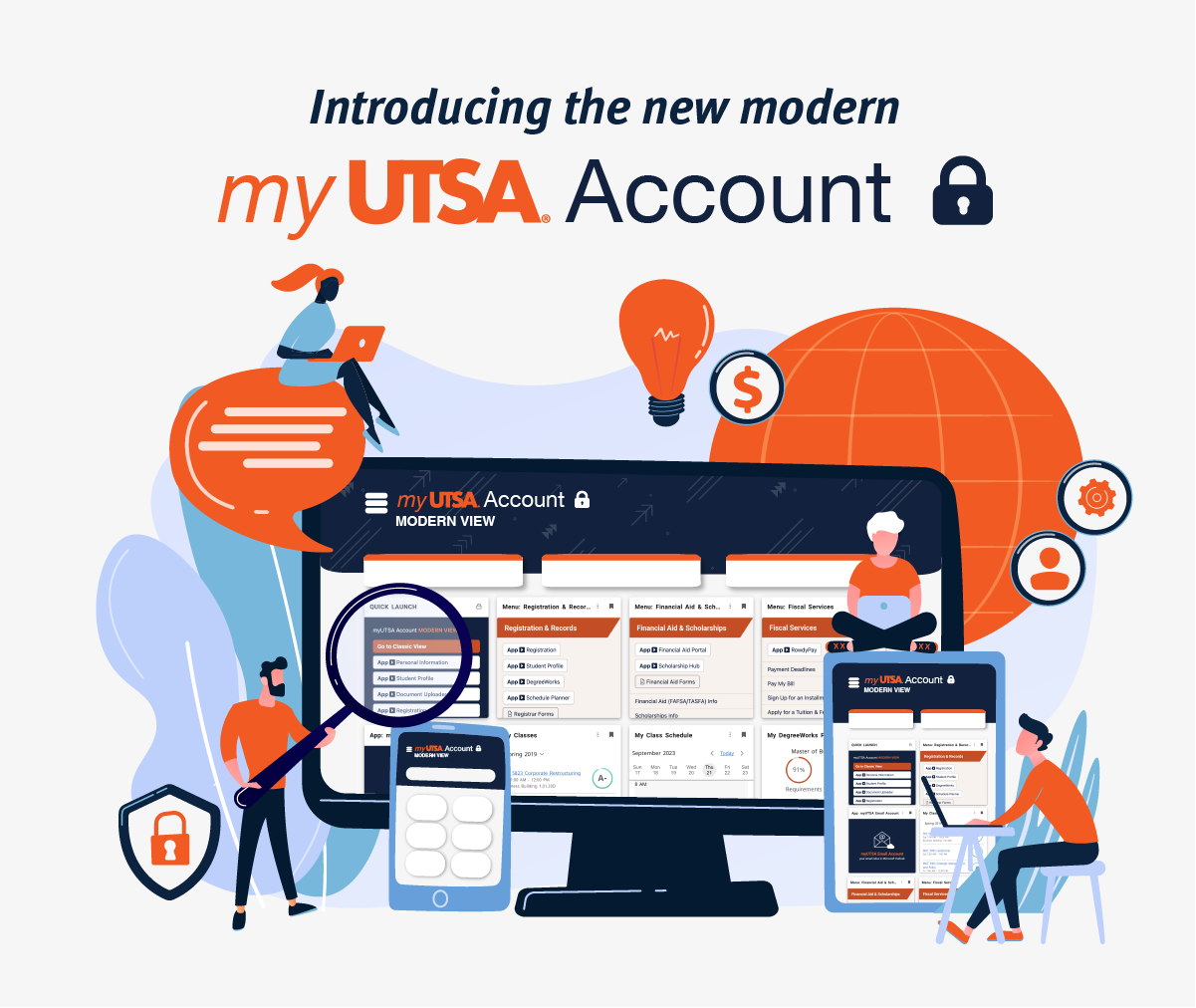 Your student portal has just undergone a significant upgrade, introducing a fresh and modernized look for easier access to your personal information, account management, and various applications! This new view features:
Personalized Homepage: Customize your homepage to display the information and tools that matter most to you, ensuring a personalized experience.
Organized Resources: We've curated and organized UTSA resources into three key categories: menu cards (student services), app cards (app launcher), and my cards (my account). Add your most-used resources to your home page for easy access. You'll find there are a lot of cards with information, showcasing the depth of support UTSA provides to help you succeed.
Responsive Design: Whether you're on a computer, tablet, or smartphone, our new design adapts seamlessly, ensuring a consistent and accessible experience.
Communication Hub: Stay informed with our announcement section, where you'll find messages and alerts about key deadlines and important information.
Check out the video and PDF guide attached above. Please note many UTSA offices and teams are continuously working to improve and refine the modern view, so you may notice further enhancements in the future. If you're experiencing technical issues accessing your student portal, please contact Tech Cafe at techcafe@utsa.edu or 210-458-5555.
---
What happened to ASAP?
ASAP is not going away quite yet, but it will be relabeled as myUTSA Account classic view.
Accounts & Applications Related to Enrollment
Other Resources in your myUTSA Account
We have curated over 15 Menu Cards on the myUTSA Account Modern View that houses various resources available to you across UTSA. We encourage you to log in to your myUTSA Account and check out all the awesome resources on the Quick Launch card, Menu Cards, Community Cards, personalized My Cards and Applications.