ASAP Updates & Improvements
As part of UTSA's ongoing efforts to improve the student technology experience, UTSA upgraded applications within ASAP.
As new features or upgrades become available, they will be highlighted within ASAP itself and additional details and guides will be placed on this page.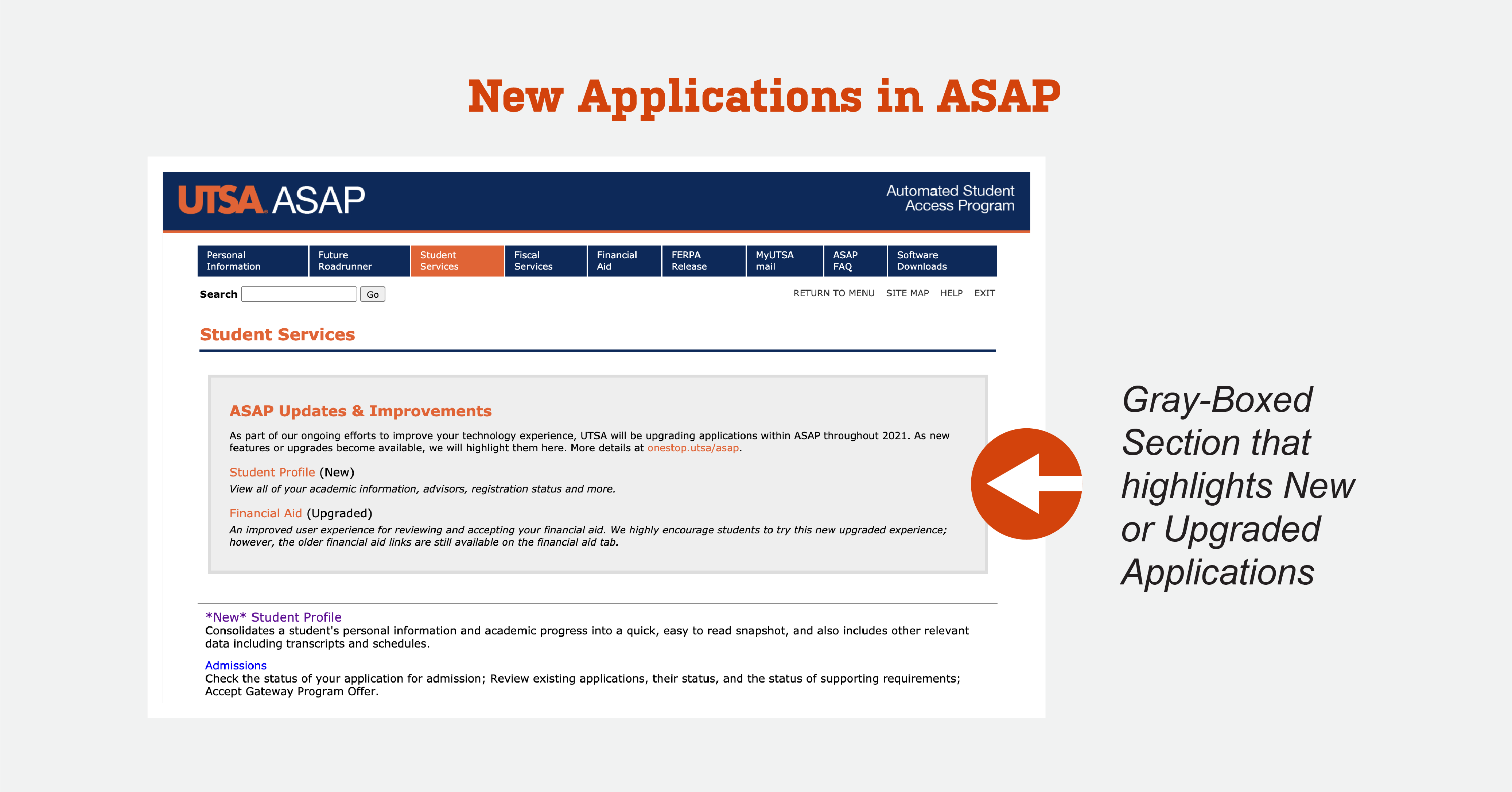 What's Changed?
Upgraded "Personal Information" Application
An improved user experience for viewing and updating personal information.
PDF Guide: Upgraded Personal Information
---
Upgraded "Registration" Application
An improved user experience for course registration(add or drop) and viewing your class schedule.
PDF Guide: New Registration Experience
---
New Class Schedule View
The Class Schedule webpage has been updated to reflect a new look.
---
Changes to Preferred Email Policy
On October 4, UTSA updated its communication policy and discontinued the preferred email address option. Any email communications sent from UTSA will be sent to your utsa-issued @my.utsa.edu email address after October 4. This policy change coincides with the effort by University Technology Solution (UTS) to migrate the student email platform to Microsoft Office 365. Students must activate their new UTSA email address.
---
Upgraded "Student Profile" Application
The upgraded Student Profile application allows you to view all of your academic information, advisors, registration status and more in one place.
---
Upgraded "Financial Aid & Scholarships" Application
The upgraded Financial Aid & Scholarships Application showcases a new improved user experience for reviewing and accepting your financial aid. We highly encourage students to try this new version! Please note the current financial aid links will still be available under the financial aid tab.
PDF Guide: Financial Aid & Scholarships
---
ASAP Login Screen
The login experience for accessing ASAP changed. Going to asap.utsa.edu now redirects you to our general single sign-on screen in order to login to ASAP, which means fewer logins and clicks between you and what you need! Please note, if you were accustomed to using the links on the bottom of asap.utsa.edu, you will now need to access those links from my.utsa.edu instead.