UTSA Scholarship Hub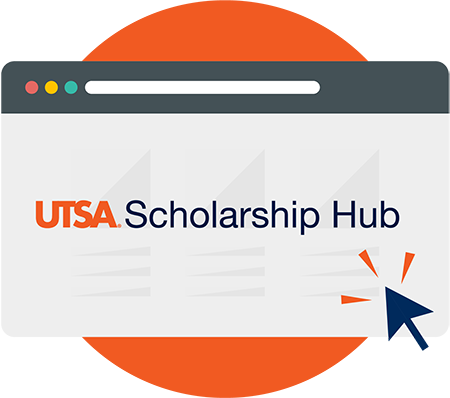 Welcome to the UTSA Scholarship Hub, the place for students to find various scholarship opportunities available to apply to, including the UTSA General Scholarships Application.
What is the UTSA Scholarship Hub?
The Financial Aid and Scholarships office administers a variety of scholarships funded by the university and donors who support UTSA. To apply for these scholarships, you must submit the General Scholarship Application annually. Be sure to review individual scholarship opportunity criteria and deadlines. UTSA departments provide scholarship opportunities to eligible students, some of which are listed on the UTSA Scholarship Hub. Contact the department for your major to find out what scholarships they offer, how to apply and their deadlines.
How to Access the Scholarship Hub
Log into the UTSA Scholarship Hub using your myUTSA ID and passphrase.
Answer all the questions for the General Scholarship Application.
Complete your General Scholarship Application by clicking Finish and Submit. Based on this application, you may be eligible for additional scholarship opportunities.
Review every additional scholarship opportunity and its requirements by clicking Apply next to each. If you qualify, answer the accompanying questions and then select Finish and Submit for each.
Helpful Tips when on the Hub
Be prepared to provide essays, contact emails for individuals providing letters of recommendation and other documents that may be required. The application will state if letters of recommendation, essays, etc. are required for your scholarship.
If you encounter problems or have questions about the General Scholarship Application, please view the Frequently Asked Questions. Some users may experience slow website performance as the deadline approaches.
If selected for a scholarship, you'll be notified by the organization managing the scholarship, usually by email. If awarded a scholarship, your overall need-based financial aid award may need to be adjusted.
HELP TEXT – For additional information or clarification, click the gray circles with the question mark.
PROVIDING REFERENCES – Not all scholarships require letters of recommendation. If a recommendation is needed, you will be prompted to enter the individual's full name and email address. It's expected that you respectfully request permission to use an individual as a reference prior to submitting their contact information. Once the contact information is submitted, an email is immediately sent to your reference with instructions on how to complete the recommendation. Please encourage a timely response from your reference. You will not be able to view the submitted recommendation, only that it has been received.
Frequently Asked Questions
Questions about the Application Process
After reading the application instructions, click on the link for the UTSA Scholarship Hub. Students must sign in with their myUTSA ID username and password.
Your username is the same myUTSA ID login that you use to access ASAP and other UTSA computing services. For assistance, contact UTSA One Stop at 210-458-8000.
Do I have to be admitted to apply?
In order to access all available scholarship applications on the UTSA Scholarship Hub, you must be an admitted student. If you are a student applying for admission, but have not yet been admitted, you may sign in and complete the General Scholarship application as long as you have authenticated your myUTSA ID and Passphrase. Once you are admitted to UTSA, please sign back in to the Scholarship Hub to see if there are any additional scholarship opportunities available for you to pursue.
I'm a graduate student, can I apply?
Yes! New graduate students must be fully admitted by the UTSA Graduate School in a degree-seeking program.
I'm an international student, can I apply?
Yes! International students are required to meet the published scholarship criteria to be eligible for scholarships.
My SAT/ACT score (or class rank) is below the minimum criteria, but i'm already a UTSA student. Can I apply?
Yes! Continuing students will be reviewed based on their academic records. SAT/ACT scores and high school rankings are only used to determine the eligibility for new students from high school. New transfer students will be reviewed based on their cumulative transfer GPA.
Can I save my application and come back later?
Yes! You may save your UTSA Scholarship Application and come back to it at any time before the deadline. Scholarship opportunities that have been saved will show as "Drafted".
What system requirements are necessary to complete the application?
UTSA Scholarship Hub supports only the current and the last major releases of Google Chrome, Mozilla Firefox, and Safari.  If you are using a non-supported browser, we would recommend updating your browser to avoid any potential issues.
How will I be notified if I am offered a scholarship?
Awardees will be notified by the organization managing the scholarships, usually by email. If awarded a scholarship, your overall need-based financial aid award may need to be adjusted.
Questions about Reference Letters and Scholarship Opportunities
How can I tell if my reference has submitted the letter?
Once you sign in, click the References tab to view the status of your reference request. You have the option to resend your request for reference.
Can I change my reference contact?
Yes. Sign into your application and click on the "My Applications" tab. Select the application for which you would like to change your reference contact. You will have the option to either replace the existing reference or enter a new reference.
Why do some scholarship opportunities have an award amount and others say "varies"?
Most scholarship donors allow the University Scholarship Committees to determine the scholarship amount based on available funding. These scholarships are noted as amount varies. In situations where donors have specified an exact award amount, that amount is noted. Please note, scholarship funding is never guaranteed, and is affected by available funding.
How can I see the scholarship opportunities that I was automatically matched with?
Students are only able to view scholarships for which they supplied additional information and submitted an application. Students may see scholarships that do not require additional action by clicking "All Opportunities" to review criteria for the opportunities that auto-match eligible applicants.
Questions about FAFSA and Financial Aid
Do I need to complete the FAFSA?
Some scholarships awarded through this competitive application process require the recipient to show financial need as determined by the annual Free Application for Federal Student Aid (FAFSA). All students are encouraged to complete the FAFSA, regardless of family income. The priority deadline to submit the FAFSA to UTSA is January 15 for new and current UTSA students. Complete the FAFSA online at www.fafsa.gov or on your smartphone via the myStudentAid app as soon as possible after October 1.
Can scholarships impact my financial aid offer?
Free and need-based sources of financial aid cannot exceed a student's financial need. If your current financial aid offer is already meeting your full financial need and another scholarship is reported, then financial aid will have to be reduced to make room for the additional funds. We will always notify you via email of any changes made to your financial aid award.
Helpful Information for References and Reviewers
Which internet browser should I use?
UTSA Scholarship Hub supports only the current and last major releases of Google Chrome, Mozilla Firefox and Safari. If you are using a non-supported browser, such as Internet Explorer, you will need to switch to a supported browser to avoid any potential issues.
When I sign in, it takes me to the student application. How do I access my reviews or reference requests?
The main Scholarship Hub page defaults to the Applicant (student) and Administrator sign in. Please be sure to click on the tab for References and Reviewers. You will sign in with your email address and password that you created for the Scholarship Hub, not your myUTSA and Passphrase. If you need to setup or reset your password for the Scholarship Hub, click on the trouble signing in link (see screenshot below). Also, please be sure that you are using a supported internet browser, either Google Chrome, Mozilla Firefox or Safari.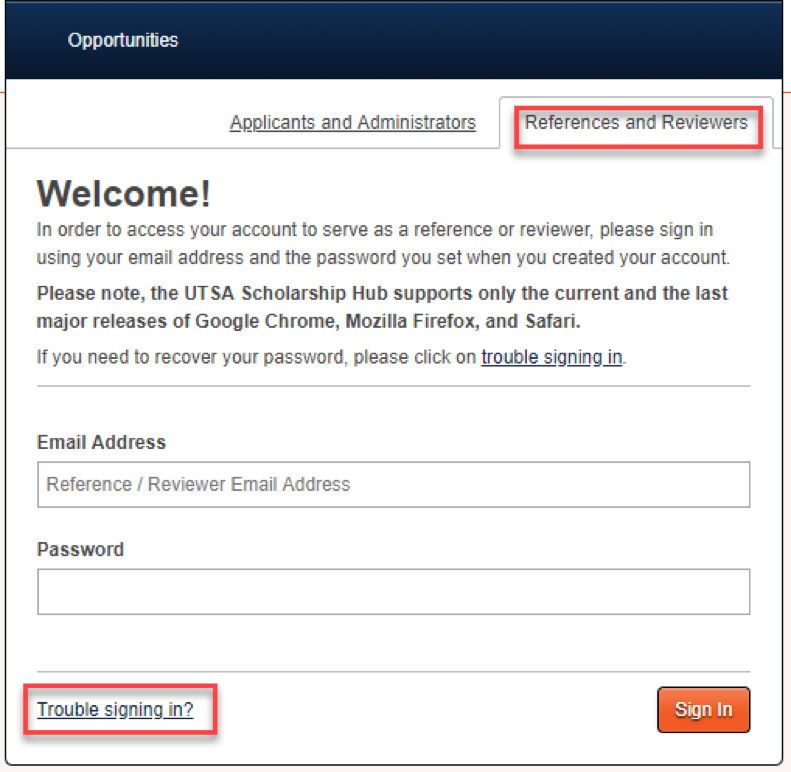 A student informed me that they requested me as a reference for their scholarship application, but I did not receive the e-mail request. When will I receive it?
Once a student makes the reference request via the UTSA Scholarship Hub, an e-mail immediately generates to the e-mail address the student provided. If you did not receive the e-mail, please check your Junk Mail and Clutter folders. You can also ask the student to resend the reference request; this option is available to students in the UTSA Scholarship Hub.