Rowdy Bot
Rowdy Bot is an AI-driven chatbot designed to help students answer general questions related to admissions, financial aid, registration, and enrollment.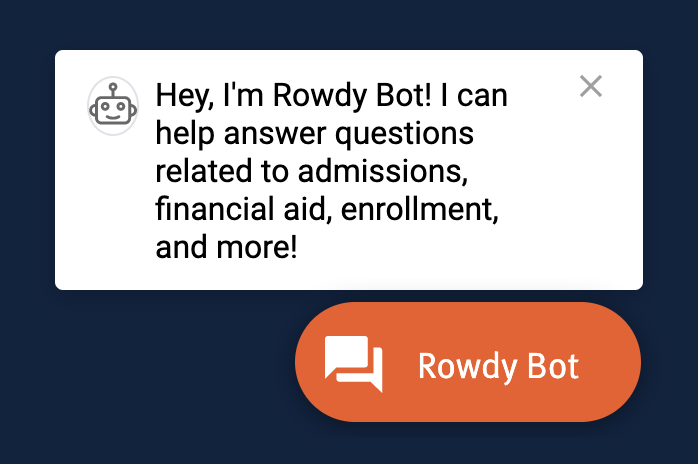 Chatting on the Web with Rowdy Bot
You'll find Rowdy Bot embedded on the bottom right corner of the Future Roadrunner website as well as select other pages on the utsa.edu domain. Start asking it any questions you have and Rowdy Bot will do its best to answer or take you to the right webpage where you can find the answer. If Rowdy Bot gets stumped, he'll prompt you to send your question to a human, who will answer your question via email within a few business days.
Texting with Rowdy Bot
If you are an applicant or a current student with UTSA, you might get a text from Rowdy Bot. If you do get a text, we encourage you to add the phone number to your contacts with the name "UTSA Rowdy Bot".
Catagories of Messages — Texting is reserved for information that is considered relevant and/or time-sensitive such as messages used to provide information on upcoming events and announcements, notifications of important deadlines or dates and relevant activities or news as it relates to the recruitment, enrollment and retention of students. Text messaging may be non-marketing or marketing-related based on the text messaging programs the student opts-into. Message frequency may vary.
Opting Out of Texts — When you do get a text and you want to opt-out, you can use the #PAUSE command, and let Rowdy Bot know how long you want to be unsubscribed for. If you want to fully opt-out, you can use the command #STOP and you will no longer receive texts from Rowdy Bot. If you ever want to start up again, you will have to type in #START to re-engage.
Costs — All costs associated with receiving a text message are the responsibility of the individual receiving the text message. Message and data rates may apply from the wireless carrier. UTSA is not liable for delayed or undelivered messages. Delivery of information and content to a mobile device may fail due to a variety of circumstances or conditions. You understand and acknowledge that network services, including but not limited to mobile network services, are outside of UTSA's control, and UTSA is not responsible or liable for issues arising from them.