2021-2022 Verification
The University of Texas at San Antonio is federally obligated to verify all financial aid applicants that have been selected by the U.S. Department of Education for a process called verification.
Important Verification Update
Per the Department of Education, most of the verification requirements for 2021-2022 have been waived. Before submitting verification documents, review your
ASAP
requirements to see if any documents are still requested. Submission of documents that are not requested could result in a review by our office that may impact your eligibility to receive financial aid.
If your application is selected for verification it will be indicated on your Student Aid Report (SAR) when you submit your FAFSA. Students may also check their ASAP accounts to view a list of the required documents necessary to complete the process.
UTSA is required to complete this process prior to certifying student loans or disbursing financial aid funds to a student's account. Failure to complete the verification process may result in the cancellation of student financial aid.
Priority Submission Deadlines:
FALL 2021 - JULY 1, 2021
SPRING 2022 - NOVEMBER 30, 2021
Important Information about Verification
Verification paperwork submitted after the deadline is not guaranteed to be completed by the Fall 2021 payment deadline or Spring 2022 payment deadline.
Failure to submit all documents together may result in a processing delay. Financial Aid will not disburse until the verification process is complete. It is recommended to have payment arrangements (e.g. Tuition and Fee Loan, Installment Plan, etc.) in place if paperwork is submitted after the priority submission deadline to avoid late fees or a change in enrollment.
Please log on to your ASAP account to view your Student Requirements tab under Financial Aid to see what documents you must submit to the One Stop Enrollment Center.
Log onto your Automated Student Access Program (ASAP)

Click on the Financial Aid tab at the top

Note: You will be prompted to authenticate yourself through your DUO account when trying to access information after this point. Don't have a DUO account? Click here to learn how to set it up.

Click "*New* Financial Aid & Scholarships Experience"

Select the applicable Aid Year at the top right corner

On the "Home" tab under the "Student Requirements" section, you will see any outstanding requirements listed under "Unsatisfied Requirements"
Tax Verification Requirements
Depending on your tax situation you will need to verify eligibility based on your IRS filing status.
Parents and Students - 2019 Tax Filers
IRS DATA RETRIEVAL TOOL (DRT)
(Preferred Method)
Sign into https://fafsa.ed.gov/
Select parent/student finances page
Select "Link to IRS" and complete steps with IRS
Data will show as "Transferred from the IRS"
OR
OR
Parents - 2019 Non-Tax Filers
VERIFICATION ON NON-FILING LETTER
(From the IRS)
Contact the IRS at: https://www.irs.gov/individuals/get-transcript
Mail or Fax Form 4506-T to the IRS
Call the IRS at (800) 908-9946
Submit the Verification Letter of Non-Filingreceived from the IRS
Submit all 2019 W-2 and 1099 forms
OR
2019 Wage and Income Transcript from the IRS
If an individual filed an amended IRS Federal Income Tax Return for tax year 2019, please provide both items below:
2019 IRS Tax Return Transcript or Signed Tax Return
A signed copy of the 2019 IRS Form1040X, "Amended U.S. Individual Income Tax Return," that was filed with the IRS.
Verification FAQs
Here are answers to some frequently asked questions:
Am I required to respond to a Verification request?
Yes. The U.S. Department of Education requires that you comply with our requests for official documents. Failure to submit all the requested information within the designated time frame may result in the cancellation of your student financial aid. UTSA is required to complete Verification prior to certifying student loans and disbursing federal aid. Furthermore, failure to turn in necessary documentation could result in you being dropped for non-payment.
Why do I need to give you this information? Isn't it on the FAFSA?
The University of Texas at San Antonio is federally obligated to verify all financial aid applicants that have been selected by the U.S. Department of Education for a process called verification. The purpose of verification is to allow UTSA to verify the information you reported on your FAFSA to ensure its accuracy. If any information needs to be updated or corrected, UTSA can and will make those corrections and submit them to the Department of Education for processing on your behalf. Everyone who signs the FAFSA agrees to provide information in the event you are selected to check the accuracy of your completed FAFSA.
How do I send you the information?
Documents can be submitted through the Document Uploader, via U.S. mail, or at our drop box location. Documentation submitted via fax or e-mail will not be accepted and the documents will have to be resubmitted in the proper fashion. Faxed verification documents will be shredded for security purposes. In order to ensure that all information is legible, please do not take pictures of documents and submit the printed image (these often result in blurry and unreadable forms that must be resubmitted).
Will all my tax information and documents be kept confidential?
Yes, all your tax documents and financial information are kept confidential. If your parent is listed as the legal parent on your FAFSA we can provide specific information regarding your verification or financial aid. We will not release other student account information unless you (the student) have provided us with a studentauthreleaseedurecs Student Authorization to Release Education Records Form. This form allows you to designate who you want to have access to your information.
What is the IRS Data Retrieval Tool (DRT) and how do I use it?
The IRS Data Retrieval Tool (DRT) allows students and parents to access IRS tax return information and transfer it directly into their FAFSA. You are ineligible to use the DRT if you (or your parents) are married but filed separately or if your marital status has changed as of January 1. We highly recommend using this tool if you are eligible for several reasons:
It's the easiest way to provide tax data
It's the best way to ensure your FAFSA has accurate tax information
You won't need to provide a copy of your or your parents' Tax Return or Tax Transcript if selected for verification
Please note that the IRS DRT may not be available for immediate use after filing your federal taxes. If you filed your taxes electronically, it could take up to 2-3 weeks for your tax information to become available on the DRT. If you filed a paper tax return, please allow 6-8 weeks to use the DRT.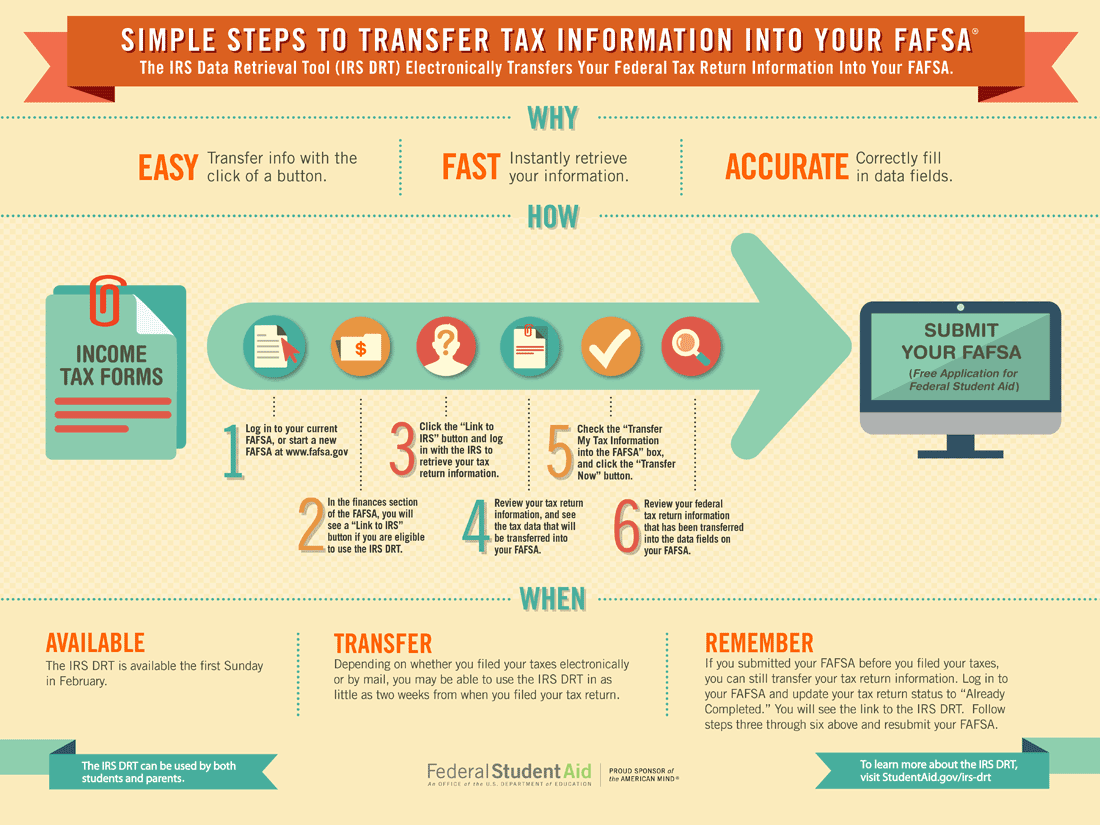 How do I request a copy of my Tax Return, IRS Tax Transcript or Verification of Non-filing?
IRS Tax Returns and IRS Tax Transcripts can be requested one of several ways:
Online through http://www.irs.gov. Under the "Tools" section, select "Get a Tax Transcript"
By mailing in Form 4506-T or 4506T-EZ to the IRS. For a Verification of Non-filing you must use Form 4506-T and check box 7.
By calling 1-800-908-9946
In person at your local IRS office. Generally you will need to make an appointment to go in person.
What if I amended my taxes, can I still use the IRS Data Retrieval Tool (DRT)?
No, if you amended your taxes, you cannot use the IRS DRT. You must submit a signed copy of your 2019 Tax Return AND the IRS 2019 Tax Transcript AND a signed copy of your 1040X Amended tax return.
Once I've submitted all my verification documents, taxes, I'm done, right?
If necessary, we may request additional information and/or documentation to resolve any discrepancies that arise during the processing of your paperwork. Please check your UTSA email address and your ASAP account regularly for any updates concerning the review and processing of your file. In the event we must contact you, please respond to these requests as quickly as possible as failure to do so will only further delay disbursement of your financial aid.
What if I (or my parents or spouse) was a victim or tax-related identity theft?
In order to complete verification, you must submit the following items:
A Tax Return Database View (TRDBV) transcript obtained from the IRS, or any other IRS tax transcript(s) that includes all of the income and tax information required to be verified; and
A statement signed and dated by the tax filer indicating that he or she was a victim of IRS tax-related identity theft and that the IRS is aware of the tax-related identity theft.
TRDBV Transcripts are obtained by contacting the IRS Identity Protection Specialized Unit (1-800-908-4490)
What if I (or my parents or spouse) filed a non-IRS tax return (U.S. territory or foreign return)?
You must submit a transcript that was obtained at no cost and that lists the 2019 tax account information of the tax filer from the relevant tax authority of a U.S. territory (Guam, American Samoa, the U.S. Virgin Islands) or commonwealth (Puerto Rico and Northern Mariana Islands).
If there is a fee to obtain a transcript for a filer of a foreign tax return, you can submit the following:
A signed copy of the original 2019 income tax return AND
Documentation showing that the tax authority charges a fee to obtain a transcript
What if I wasn't required to file a federal tax return?
If you (or your parents or spouse) were not required to and did not file a tax return, you will be required to submit an IRS Verification of Non-filing letter. You must also report all sources of income earned during the specified tax year and submit copies of all W2 forms.
Dependent students do not have to submit an IRS Verification of Non-filing letter. Only parents of the dependent student or an independent student and spouse are required to submit an IRS Verification of Non-filing letter.
How do I know who to include in the Household on my verification form?
People in your household must live with you or your parents and being supported at least 50% between July 1, 2021 of the current year and June 30, 2022 of the following year.
Dependent Students: List the people that your parents will support. Include yourself, your parents, and your parents/stepparents' dependent children (if your parents provide more than half support, or if they would be required to give parental information when applying for federal student aid).
Independent Students: List the people that you (and your spouse) will support. Include yourself, your spouse, your children, and other people if they live with you (and you provide more than half of their support and will continue to provide half their support).
Include other people as part of your household only if:
They lived with your parents and received more than half their support from your parents at the time you completed your FAFSA, and they will continue to receive more than half of their support from you and/or your spouse during the academic year.
My parents are divorced. Am I required to submit my step-parent's information for the verification? What if they don't support me financially?
Yes, you must include your stepparent's information on the verification forms and submit signed copies of their IRS 2019 Tax Transcript or Tax Return. The U.S. Department of Education requires that you submit all requested information for the parent(s) with whom you live and also anyone married to the parent with whom you live.
What if my parents don't support me?
If you are a dependent student, your parents must submit any and all financial information requested by UTSA, regardless of whether or not they support you or intend to continue supporting you. If you have an unusual circumstance surrounding your parental support, please email us at onestop@utsa.edu.